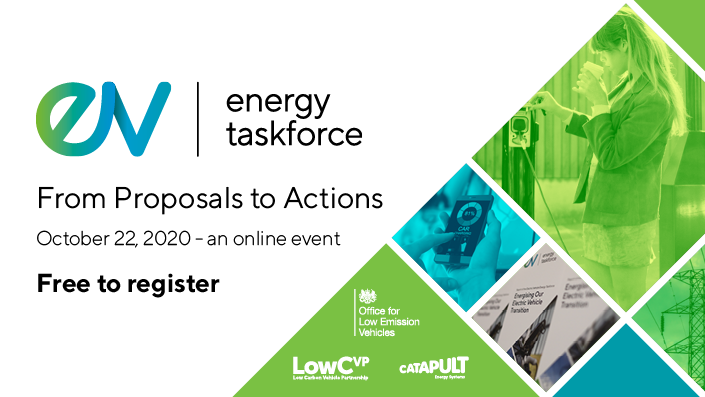 The Electric Vehicle (EV)  Energy Taskforce – which was convened by LowCVP to help bring energy and automotive stakeholders together to facilitate the electric transition in road transport – is moving into a new action and implementation phase. Stakeholders were encouraged to sign up for an online networking event on Thursday 22 October, from 2pm, to find out more about the Taskforce's next steps. BEIS Minister for Business, Energy and Clean Growth, Kwasi Kwarteng MP gave keynote speech at the event.
The EV Energy Taskforce was established in 2018 to make proposals to government and industry to bring together the auto and energy sectors to ensure that the GB energy system is able to accelerate the mass take-up of electric vehicles while also delivering benefits to the electricity system. The Taskforce's first phase was an unprecedented collaboration of more than 350 organisations including many household names.
The Taskforce made twenty-one key proposals for actions to be taken by government and industry to enable an effective and efficient electric mobility transition. The proposals were included in a report which was launched in January 2020.
The event on 22 October updated delegates on plans for the next phase of the EV Energy Taskforce as it moves to action the agreed proposals in preparation for their implementation.
In addition to Minister Kwasi Kwarteng, there will be contributions from key stakeholders and Taskforce working group leaders, including EV Energy Taskforce Chair, Philip New, Chief Executive of the Energy Systems Catapult, and Taskforce Vice Chair Andy Eastlake, LowCVP's Managing Director.
EV Energy Taskforce – From Proposals to Actions speakers:
Keynote: Rt Hon Kwasi Kwarteng MP, Minister for Business, Energy and Clean Growth, BEIS
Hosts/Chairs:
Philip New, EV Energy Taskforce Chair; Chief Executive, Energy Systems Catapult
Andy Eastlake, EV Energy Taskforce Deputy Chair; Managing Director, Low Carbon Vehicle Partnership
Speakers:
Randolph Brazier, Head of Innovation Energy Network Association
Jonathan Bray, Director, Urban Transport Group (tbc)
Richard Dobson, Technical Collaboration Consultant, Energy Systems Catapult
Sam Hollister, Director of Economics and Corporate Services, Energy UK
Richard Halsey, Director of Capabilities, Energy Systems Catapult
Neil Kenward, Director for Strategy and Decarbonisation, Ofgem
Rajni Nair, Senior Policy Researcher, Citizens Advice
Gill Nowell, Board member, Electric Vehicle Association England
John Parsons, Director Digital, BEAMA
Howard Porter, Chief Executive, BEAMA
Peter Stephens, Head of UK External & Government Affairs, Nissan
Nina Skorupska, Chief Executive, Renewable Energy Association (tbc)
Thalia Skoufa, Transport Practice Manager, Energy Systems Catapult
Sebastiaan Van Dort, Associate Director and Head of Energy, BSI
Paul Van Heyningen, Deputy Director, EV & Net Zero Electricity Networks, BEIS
Dhara Vyas, Head of Future Energy Services, Citizens Advice
David Wong, Technology & Innovation Manager, Society of Motor Manufacturers and Traders